Best Combo Bouncer Rentals Norwood MA Kids Love
We guarantee any party will be a major hit with our large selection of combo bouncer rentals Norwood MA can't get enough of from the team at All Seasons Rent All. We're happy to provide the area with the largest selection of event rentals that help get the party started in a fun and festive way. No party is too big or small for our range of safe, entertaining, and versatile selections that meet the needs of every theme, budget, and timeframe. Make your child's next birthday party one to remember with the help of one of our options for an affordable combo bouncer Norwood MA kids AND adults can enjoy!
As a locally owned and operated company, we care about customers finding the best combo bouncer rentals Norwood MA has to offer that they can count on to help make their party a total success. We are fully licensed and insured with a setup crew trained in safety. Let our experience and know-how in the industry go to work for you. Our team will deliver and set up the combo bouncer rental Norwood loves on time and in a professional manner. Our goal is to give you the best experience by helping choose and reserve an inflatable that suits your party or event and provides countless hours of excitement for you and your guests.
Choose the all-in-one bouncer rentals Norwood MA can't throw parties without and book your rental today! We're happy to provide delivery in Norwood, Massachusetts, and the surrounding areas of Norfolk County. Browse our selection of online inventory, find the perfect rentals for your upcoming occasion, and reserve your rental with a few easy clicks and our secure system. If you have any questions about how we can put the fun into your function, give us a call at 800-924-8440!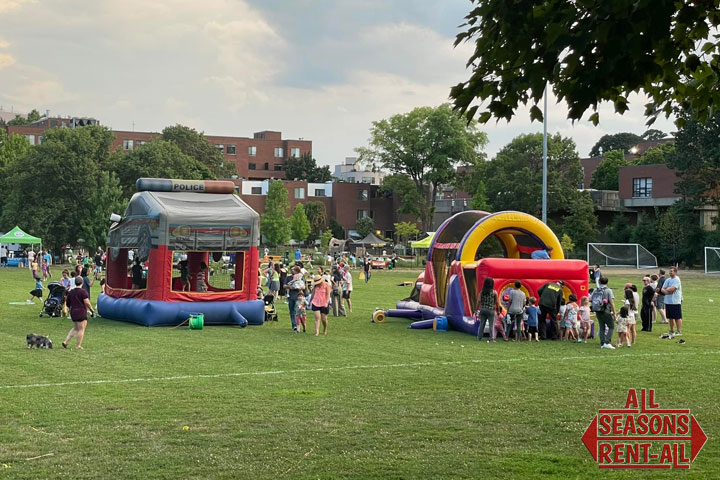 Reserve a Combo Bouncer Rental Norwood MA Every Loves for Events
Choose the combo bouncer rental Norwood MA kids go crazy for at parties all over Norfolk County! Kids of every age love to bounce and slide, which makes our moon walks the best entertainment you can find for them. Event planners turn to us to deliver the fun at their birthday and graduation parties, community picnics, and field days. Our combo bouncers can be used indoors as well and make the perfect indoor party entertainment for when the weather isn't conducive for outdoor parties or for events like school festivals or church lock-ins.
Our combo bouncers rental Norwood MA can't get enough of is the top choice with school districts for their school field days and awards ceremonies. Family-friendly corporate events like company picnics and holiday parties always need a source of fun for the kids, and we have the solution when you rent a bouncer in Norwood from our friendly and helpful team of party professionals. Church youth group functions use our rentals for exciting entertainment for their members. We provide healthy, fun party entertainment solutions to our customers for events and parties of all kinds that meet the needs of every budget.
No party is too big or small for our combo bouncer rentals Norwood parents, school administrators, business owners, and individuals trust to deliver the fun year-round! As your all-inclusive party rental provider, we carry an amazing selection of bounce houses, water slides, inflatables, and more. Even the upgraded versions more commonly called combo bouncers that boast slides, interactive popups, basketball goals and much more. Browse our expansive collection of fun and festive options on our website and reserve your rental today.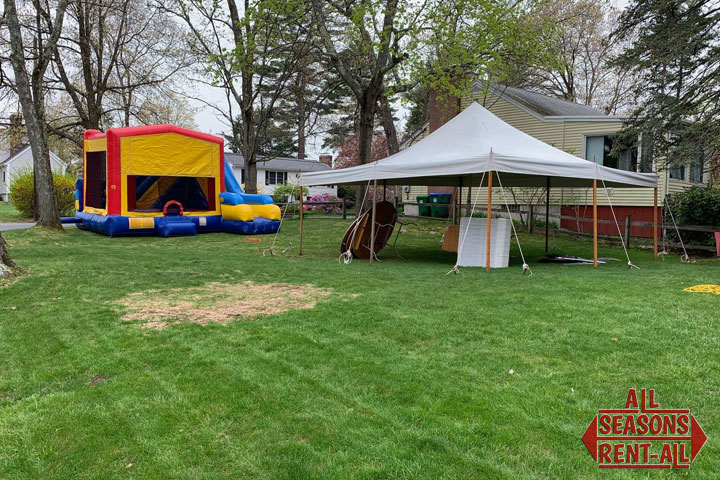 Awesome Choices for a Combo Bouncer Rental Norwood, MA Can't Get Enough Of
Our selections for a combo bouncer rental Norwood, MA kids AND adults can enjoy is the most extensive in the area with countless fun and colorful options that will keep the entire guest list entertained for hours on end. We have something for everyone, with an assortment of themes and styles to fit any party. Whether you're throwing a birthday party for your toddler or planning a corporate team-building weekend, we're confident we have the inventory to fit your budget, theme, and timeframe.
We're happy to offer options for a budget bouncer Norwood MA that will suit your party perfectly. We keep our prices low and our standards high, giving everyone the opportunity to entertain their guests and bring big fun to any event. Your guests of all ages will feel the excitement when they see the best combo bouncer rental Norwood, MA has to offer at the party. Take a look at a few of our most popular options and book your rental today for a child bouncer Norwood kids can't get enough of! Don't forget to add a popcorn machine or cotton candy from our concession machine rental choices. We also have tent rentals, table and chair rentals, as well as tableware to go along with. All Seasons Rent All is truly your one-stop-shop!
Our bouncers are generally appropriate for ages 3 years and up, and we even have a combo bouncer for a kids party Norwood friends love to rent for a variety of wedding-related celebrations! Browse our huge selection and order online, or give us a call if you have questions about our rental availability in your area or other related questions at 800-924-8440.
Why Choose Us for Your Norwood Bouncer Rental
All Seasons Rent All is the top choice for a Norwood bouncer rental for your next event. We have years of experience in providing the high-quality rentals that party-goers have come to expect from our professional and friendly team. As a local family-owned business, it's always our top priority to exceed our customer's expectations with helpful service, a range of fun selections, and guaranteed-on-time delivery. Get the party started with our team of party people today!
We partner with industry-leading, reputable manufacturers to provide premier inflatables and Norwood bouncer options that add entertainment to a range of events. Our inventory is made with the highest commercial grade materials, including lead-free and fire-resistant vinyl, and is inspected and sanitized after each rental. We won't put your kids in a bouncer that we wouldn't put ours in. With mesh windows for adequate airflow and supervision, we're confident your little ones will have a blast for hours on end and you can rest assured they're staying safe.
We're here to help make your party planning as stress-free and enjoyable as possible for you and your guests. Let us handle the heavy lifting of providing non-stop entertainment for all ages to enjoy while you create lasting memories with the help of a reliable, engaging, and cost-effective Norwood bouncer! We regularly work with families, individuals, school administrators, business owners, and community organizers to throw over-the-top and unforgettable events year-round. Browse our online selections and book your rental today!
How to Book a Bouncer Norwood Communities Enjoy Year-Round
When you set the date for the party, it's time to book the combo bouncer Norwood families can't get enough of from the best rental company in the area. We've made it so simple to browse our vast selections and book what you need for your event right from the comfort of your home. We carry a range of options that are perfect fits for all themes, budgets, and timeframes. If you're holding your event inside a venue, we have an indoor bouncer Norwood MA school administrators and churches use that will bring the fun inside too. No matter the location, your party is going to be a hit with some help from our knowledgeable team and a fun and festive bouncer Norwood kids ask for at every event.
To reserve your rental with the click of a few easy buttons, follow the steps below or give us a call:


Click on the "Party Rentals" tab in the menu bar, then click into the "Combo Bouncers" category to view our amazing selection of bouncers.


Choose your rental and click the red "Add to Cart" button.


Using the calendar, pick your date and choose your start time and end time for the rental.


Enter your contact information and the delivery address.


Enter your payment using any major credit card.


You'll be receiving a confirmation via email and or text confirming the specifics of the rental and a digital copy of your receipt.


Someone from our customer service team will reach out to you a day or two prior to delivery to confirm the delivery window.


It's that simple! If you have any questions along the way in the reservation process or at any point while navigating our website, call us at 800-924-8440 and we will get you the answers you need about reserving your bouncer rentals Norwood Massachusetts can't throw parties without.
Delivering Fun with a Combo Bouncer in the Norwood and Nearby Areas
All Seasons Rent All is the go-to for party planners and parents looking for a combo bouncer in Norwood for their upcoming party. We provide service to greater Norwood, Massachusetts in Norfolk County, and the surrounding communities of Walpole, Medfield, Canton, Stoughton, Dedham, West Roxbury, Needham, and Newton. We're happy to offer delivery to the 02062 and 02090 zip codes.
Our customers enjoy setting up in local parks like Mcaleer Playground, Endean Park, or Doherty Park to enjoy the wide-open spaces in our beautiful city. Get in touch with our experienced party professionals to learn more about the essentials you'll need to set up in a public area, including a generator to power your inflatable. We regularly partner with churches, neighborhoods, community organizations, and Norwood Public Schools to help throw memorable events year-round by providing the best options for a bouncer rental in Norwood MA.
If you don't see your specific area listed and you have questions about delivery to your address, don't hesitate to give us a call at 800-924-8440. Our friendly reps are here to assist you with getting the bouncer in Norwood that will be a perfect fit for your party.
Norwood Inflatable Rental Bouncer FAQs
Customers often have questions about our Norwood inflatable rental bouncer selections for their event. When you're browsing our selections take note of the size needed to set up an inflatable rental, and measure the space available at your site. Here are a few other frequently asked questions for you to browse that may get you started in the right direction when you're looking for entertainment options for your event.
Inflatables are not airtight, so you will need to keep the blower running continuously by keeping it plugged into a power source in order to keep the unit inflated throughout the duration of your event. This is the nature of most inflatables in the constant-air category, which are high-quality, durable, and safe Norwood inflatable rental bouncer options for a wide range of events.
No. Our team will arrive ahead of the start time of your event to set up the bounce house and ensure we're out of your hair before guests arrive. Depending on our rental schedule for that day, we'll arrive 1-3 hours prior to your start time and as early as four hours in advance in some cases. We'll call prior to your event date to confirm someone will be available when we expect to arrive. Generally, this means you get to enjoy the bouncer longer for no additional charge!
Absolutely! Many of our customers enjoy setting up outdoors at local parks, but please be aware that most public parks do not have access to a power source, but don't worry! We have generators available for rent that will keep your giant bouncer Norwood kids enjoy blown up and in use while outdoors. Parks are typically first-come, first-serve, so be sure to arrive early to claim your spot.
Customers Love our Norwood Bouncer Rentals
We're thankful to have earned the repeated business of hundreds of customers with our Norwood bouncer rentals over the years. Our reputation of excellence is well known in the area for residential use and corporate, school, or church events. You invite the guests, and we'll bring the fun!
Whether you need help picking the perfect bounce house to keep dozens of kids entertained or would like a custom quote for a package deal, our team is here to help. Look at what a few of our happy customers have to say about their experiences working with All Seasons Rent All and make your Norwood bouncers reservation today!
"I've had many tents and moonwalks delivered to my house and have always experienced exceptional service. I would never think of using another place. -Paul W
"Anyone can rent you stuff but not every one that rents takes the time and has the knowledge to help you use it."
"These guys have helped me with, tents, tables, chairs etc, for my wedding to dropping off skid steers and everything in between, since 2002. Professional, friendly, and most important fast and reliable." -Sean Q