Top Rated Company for a Tent Rental Norwood, MA
All Seasons Rent All is one of the top rated companies in the local area for a tent rental Norwood MA comes to trust. We carry a complete line of tents for rent. Here you will find various sizes and packages for any budget. Our tent rental service offers delivery and set up also if needed for an extra fee the price of the tent packages do not include delivery and set up.
Weather can be unpredictable, but with All Seasons Rent-All, you can be assured of the best tent rental Norwood MA can rely on. Our vast collection of tent rentals ensures that no matter the size of your gathering, we have the ideal tent for you. With a legacy spanning nearly two decades, our family-owned business stands as a testament to our dedication and expertise in the Norwood, Massachusetts local community.
Our tents are not just functional; they are pristine, elegant, and add to the ambiance of your event. We understand that getting a tent rental Norwood Ma isn't just about protection from the elements but also about creating the right atmosphere. Moreover, we're not just about elegant tents. As a comprehensive event rental company, we offer everything from table and chair rentals to inflatable rentals and water slides, ensuring your event is unforgettable. Browse our vast selection of options to choose which tent rental in Norwood MA fits your needs.
So Many Norwood Tent Rental Options to Choose From
When you think of a Norwood tent rental, think reliability, safety, and efficiency. Every event is unique, and so are its tenting needs. We pride ourselves on catering to diverse events, ensuring you find the perfect tent for your occasion. Our dedicated team is always ready to assist, ensuring you have a seamless experience.
Our range includes various tents, from frame tents and high peak tents to pop-up variants. Hosting a grand event? Our 20'x100' frame tent can accommodate up to 300 standing guests. Setting up a festival booth? Our 10'x20' frame tent is perfect. Unsure about the size? Reach out, and our experts will guide you. We have just about anything and everything to keep your guests in the shade. Not only do we have a vast array of premium Norwood tent rental items, we have tables and chairs, tableware, and more to go along with.
Wedding Tent Rentals in Norwood, MA Your wedding day is special, and it deserves the best. Outdoor weddings in Norwood, MA, are truly enchanting, but the weather can sometimes play spoilsport. With our wedding tent rentals, ensure your guests are comfortable while also adding a touch of elegance to your celebration.
Party Tent Rentals Planning a backyard party and need some shade for your guests? No worries because we specialize in that aspect as we have many inflatable customers that love our tents just for that. Why use multiple companies when you can go to one company for everything you need for your next event whether it's a small gathering or large family reunion, we have something to suit every party size or theme.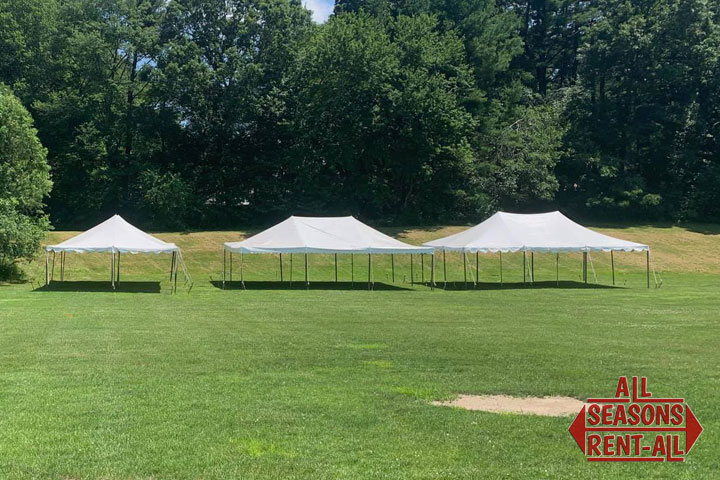 Tips for Choosing the Perfect Tent for Your Norwood Event
Size Matters: Consider your guest count and the type of event. Is it a seated dinner, a buffet, or a cocktail party? This will dictate the space you need.


Type of Tent: From pole tents with their elegant peaks to frame tents that offer unobstructed space, understand which works best for you.


Accessorize: Think flooring, sidewalls, and lighting. These additions can take your event to the next level.
Why Choose All Seasons Rent All for Tent Rentals Norwood Massachusetts
All Seasons Rent All is the top choice for tent rentals Norwood Massachusetts event planners, families, and local events choose for their events year-round. We have years of experience in providing the high-quality equipment that party-goers have come to expect from our professional and friendly team. As a local family-owned business, it's always our top priority to exceed our customer's expectations with helpful service, a range of fun selections, and guaranteed-on-time delivery. Get the party started with our team of party people today!
We partner with industry-leading, reputable manufacturers to provide premier tents for all sorts of event types. Our inventory is made with the highest commercial grade materials, including lead-free and fire-resistant vinyl, and is inspected and sanitized after each rental. We won't put our tents up that we wouldn't put at our own event. Our team knows how to safely set up party tents, pop-up tents, or large event tents so that you don't have to worry about any inclement weather or the sorts.
We understand many people are searching for the most affordable tent rentals Norwood has to offer, but along with competitive pricing, we take the necessary precautions to ensure all of our rentals are up to par to make an everlasting elegant impression on your guests.
We're here to help make your party planning as stress-free and enjoyable as possible for you and your guests. Let us handle the heavy lifting of providing non-stop entertainment for all ages to enjoy while you create lasting memories with the help of reliable, engaging, and cost-effective tent rentals Norwood Massachusetts can't get enough of! We regularly work with families, individuals, school administrators, business owners, and community organizers to throw over-the-top and unforgettable events year-round. Browse our online selections of tent rentals in Norwood can't get enough of and book your tent for rent in Norwood today!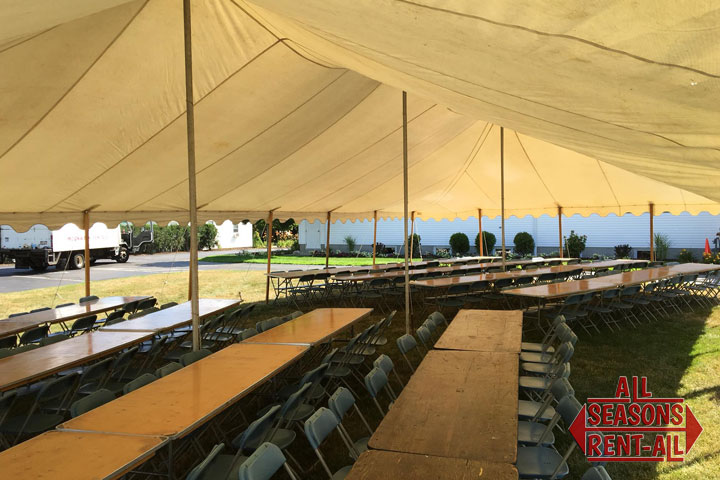 Top Reasons to Use our Tent Rentals in Norwood, MA
We know there are many other companies in the area that offer tent rentals in Norwood, MA but you can rest assured that the team at All Seasons Rent All has you covered. We have been delivering and setting up tents all over Norfolk County and the surrounding areas for years. Here are the top reasons to use us for your next event.
Unbeatable Quality: Our tents are sourced from the best manufacturers, ensuring you get durable and aesthetically pleasing setups.


Versatile Selection: Whether you need a canopy for a small get-together or a massive marquee for hundreds of guests, we have you covered.


Expert Setup & Breakdown: Our professional team takes the stress out of tent setup and breakdown. They ensure your tent stands tall and firm throughout your event.


Affordable Pricing: Quality doesn't always mean expensive. Our tent rentals are competitively priced, ensuring you get value for every dollar.
Understanding the Importance of Tent Rentals in Events
Outdoor Events and Weather Challenges: Norwood's climate can be unpredictable. From sudden downpours to the glaring sun, outdoor events have multiple challenges. With All Seasons Rent-All, your event continues uninterrupted, come rain or shine.


Creating a Memorable Ambiance: Tents aren't just functional; they set the mood. Whether you're looking for a romantic setting with fairy lights or a formal, corporate ambiance, the right tent makes a difference.
How to Book Tent Rentals Norwood MA
Booking your tent rental in Norwood, MA, is a breeze with our user-friendly online system. Choose your event date, add the required items to your cart, and proceed to checkout. It's that simple! Gear up for the most memorable event you've ever hosted. When you set the date for the party, it's time to book the Norwood families can't get enough of from the best tent rental company in the area. We've made it so simple to browse our vast selections and book what you need for your event right from the comfort of your home.
We carry a range of options that are perfect fits for all themes, budgets, and timeframes. No matter the location, your party is going to be a hit with some help from our knowledgeable team and fun and festive Norwood tents! To reserve your tent rental with the click of a few easy buttons, follow the steps below or give us a call:
Click on the "Tent Rentals" tab in the menu bar, then click on the individual category you'd like to learn more about.


Choose your rental and click the red "Add to Cart" button.


Using the calendar, pick your date and choose your start time and end time for the rental.


Enter your contact information and the delivery address.


Enter your payment using any major credit card.


You'll be receiving confirmation via email and or text confirming the specifics of the rental and a digital copy of your receipt.


Someone from our customer service team will reach out to you a day or two prior to delivery to confirm the delivery window.
It's that simple! If you have any questions along the way in the reservation process or at any point while navigating our website, call us at 800-924-8440 and we will get you the answers you need about reserving your event tent rentals in Norwood MA. Don't forget to see our party packages to include other items as well as inflatables.
FAQs on Tent Rentals in the Norwood, Massachusetts Area
When you're searching for the best tent rentals in Norwood MA, you might need additional information about products or policies before booking your reservation. Our team has the experience to answer those questions and help you with your party planning. We want to take the stress out of your role as a party planner and let our experience go to work for you. We have an extensive lineup of options to choose from for your event, both functional and fun to make your party everything you want it to be.
Take a look at some of our frequently asked questions about our tent rentals in Norwood MA below and let us know if you need any additional information before reserving your equipment! We have a full range of party rentals to go along with any event you have during any seasons in Massachusetts.
Given Norwood's bustling event calendar, it's always best to book early, especially during peak seasons.
Our tents are meticulously maintained, cleaned, and checked before they reach you.
Absolutely! Apart from tents, we offer a wide range of event rental items. Contact us for customized packages.
Delivering Party Tent Rentals in Norwood Massachusetts and Beyond
All Seasons Rent All is the go-to for party planners and parents looking for party tent rentals in Norwood Massachusetts for their upcoming party. We provide service to greater Norwood, Massachusetts in Norfolk County, and the surrounding communities of Walpole, Medfield, Canton, Stoughton, Dedham, West Roxbury, Needham, and Newton. We're happy to offer delivery to the 02062 and 02090 zip codes.
Our customers enjoy setting up in local parks like Mcaleer Playground, Endean Park, or Doherty Park to enjoy the wide-open spaces in our beautiful city. Get in touch with our experienced party professionals to learn more about the essentials you'll need to set up in a public area. There may be special permit requirements to rent a tent in Norwood to be put up at a local park. We regularly partner with churches, neighborhoods, community organizations, and Norwood Public Schools to help throw memorable events year-round by providing the best options for tent rentals Norwood parents choose for a range of events.
If you don't see your specific area listed and you have questions about delivery to your address, don't hesitate to give us a call at 800-924-8440. Our friendly reps are here to assist you with getting the tent rentals in Norwood Massachusetts that will be a perfect fit for your party.
5 Star Reviews from Happy Tent Rental in Norwood Customers
We're thankful to have earned the repeated business of hundreds of customers with our elegant offerings for a tent rental in Norwood. Everyone knows they can't throw events without one of our tents. Over the years, our reputation of excellence is well known in the area for residential use and corporate, school, or church events. You invite the guests and we'll bring the shade!
Whether you need help picking the perfect size tent rental in Norwood MA area to keep dozens of guests shaded or would like a custom quote for a package deal, our team is here to help. Take a look at what a few of our happy customers say about their experiences working with All Seasons Rent All and make your tent rentals reservation today!
"All Seasons Rent-All made our outdoor wedding a dream come true. The tent was beautiful and kept our guests comfortable throughout." - Jane D.
"I've used their services for multiple events, and they never disappoint. Their tents are top-notch, and the team is super helpful." - Mark S.
"We love to use Joe at All Seasons Rent All for our family reunions. Our family gets everything from them including a tent with tables and chairs as well as an inflatable for the kids. Always great customer service with the delivery crew and clean equipment." - Don W.
Learn More About Norwood, Massachusetts
Norwood, MA, is a vibrant town with a rich history and a strong sense of community. Hosting events here means tapping into the local spirit, and what better way to do that than with All Seasons Rent-All. As a local business, we understand the nuances of Norwood and are committed to making every event here a grand success. Whether it's a community gathering, a local festival, or a private celebration, trust us to elevate your event experience.
Local Events in Norwood, MA that Swear by All Seasons Rent-All: From the famous Norwood Day celebrations to countless weddings, corporate events, and community get-togethers, we've had the honor of being a part of many memorable events. Our commitment to quality and service has made us a trusted name in tent rentals throughout Norwood and beyond.