The Most Reliable Equipment Rentals Norwood Massachusetts Has to Offer
All Seasons Rent All is the proven provider of equipment rentals Norwood Massachusetts can depend on for any job. Whether you're a contractor needing heavy equipment to complete a job or a homeowner starting an exciting DIY project, we have the rentals you need to make your upcoming process as streamlined and simple as possible. Meeting customer needs is our number one priority and is why we continue to make lasting connections within our community. We're committed to providing stellar customer service and unparalleled options to help meet your specific project goals.
We provide the best equipment rentals Norwood Massachusetts trusts by partnering with the top manufacturers in the industry, from names you recognize. Our team works diligently to ensure that we are delivering safe, reliable equipment to your construction site or backyard. Trust our team and our fleet of heavy equipment when you need the job done right the first time. We are the local rental company that you can rely on and have served
Norwood, Massachusetts
, and surrounding areas with unbeatable service and selections over the years.
Whether you're on the hunt for a tow behind boom to help you trim large trees or are searching for a backhoe to help tear up a patio, we have no doubt our equipment rentals Norwood Massachusetts counts on will make a valuable addition to your residential or commercial project. Call us today at (800) 924- 8440 and we can reserve what you need for your next job or book online using our secure system available anytime from anywhere.
Convenient Uses for Construction Equipment Rentals in Norwood MA
The uses for our heavy equipment rentals in Norwood MA are endless, making your work manageable and achievable. Site cleanup and ground preparation will be accomplished easily with the added support of our heavy-duty equipment. You no longer need to fret about the intensive labor that goes into landscaping design, demolitions, new additions, and other repair or construction projects with the help of our rentals.
Our dependable heavy equipment rentals in Norwood MA are just what you need for digging trenches, removing concrete, installing fence posts, compacting sand, and reaching the peaks with one of our boom lifts. There are multiple uses for every piece of equipment. Browse our inventory and you'll be amazed at the options we have to make your next project go off without a hitch. Be sure to check out our
lawn and garden equipment rentals
too! Book online with a few simple clicks and ready more about ways to use our equipment below.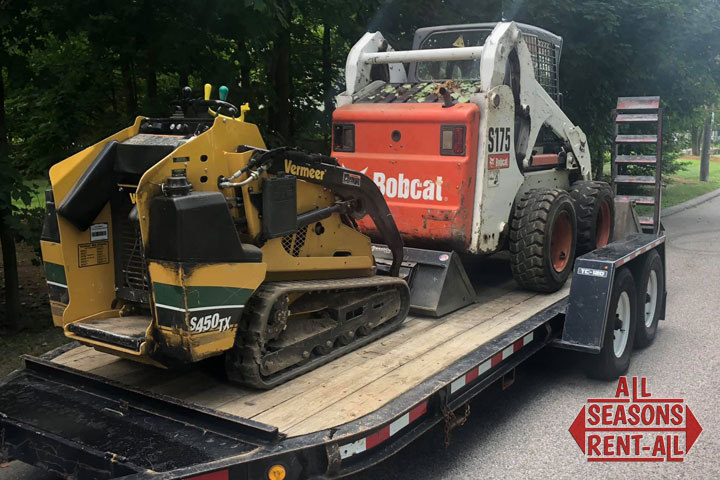 Types of Equipment Rentals Norwood MA Uses Year-Round
We have the equipment rentals Norwood MA project managers, farmers, and homeowners have come to rely on for their projects and work. A mini excavator is an invaluable tool when it comes to digging a ditch, planting trees, and removing stumps. Boom lifts are the safe alternative to the hazards of an extension ladder when prepping, repairing, and painting exteriors of buildings. A skid steer is needed for moving materials such as bricks, soil, and construction debris. You'll need a compactor for the sand beneath pavers for the professional completion of the job.
All of our options for equipment rentals Norwood MA trusts are professionally maintained and serviced for reliable and convenient use. Whether you are using our auger rentals for fencing, or an F-550 dump truck for hauling debris and materials, trust our team to make your job efficient and hassle-free. Read more about our equipment rental types below and get in touch with our team if you have any questions about reserving today!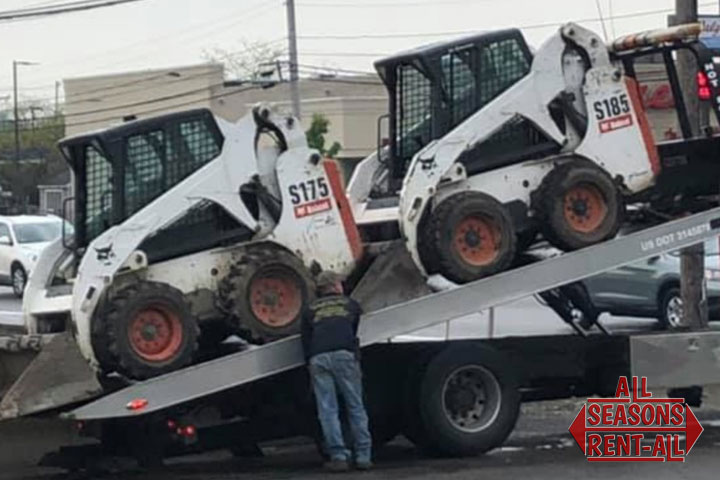 Bobcat Rentals Norwood MA Contractors and Homeowners Can Depend On
Book the best bobcat rentals Norwood MA trust with a few simple clicks today! We're confident this multi-purpose tool will make a variety of jobs possible and easier. Skid steer loaders are some of the most widely used pieces of equipment on the market. Skid steers are perfect for material handling, grading and backfilling, snow and debris removal, digging, and trenching.
Our bobcat rentals are the right tool when moving a multitude of materials from demolition and road work to construction and agriculture. A skid steer is a multi-use option that works in tight spaces for use by contractors, construction professionals, and homeowners alike. Check out what our Bobcat rental can do for you and book online!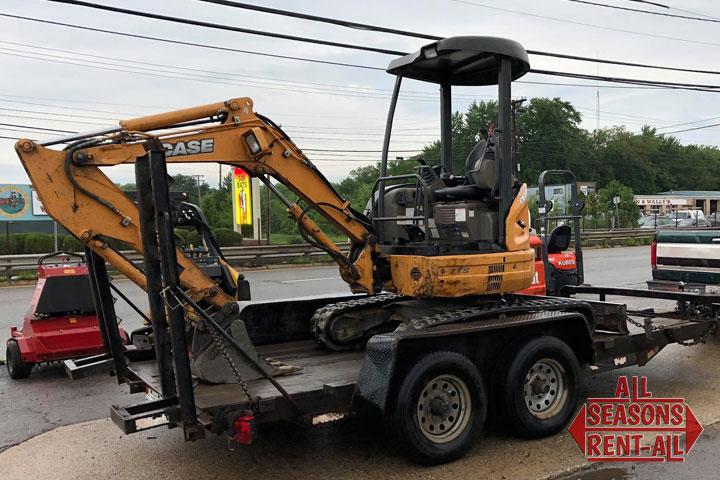 Excavator Rental Norwood MA Can Count On
When you're looking for an excavator rental Norwood MA trusts, we have the options that will get your job done faster and easier. There are so many uses for a mini excavator in commercial, agricultural, and residential applications. Demolishing small structures, repairing sewer lines, and digging swimming pools or garden ponds, are all possible with a mini excavator rental Norwood Massachusetts.
Our dependable excavator rental Norwood MA homeowners and contractors use makes digging holes, utility trenches, and drainage ditches a breeze. Our micro excavator is great for the really tight spots where other equipment won't fit, it's able to break up concrete all while fitting thru a 36" gateway. You can count on our equipment to be well maintained and reliable, and ready for your next project. Check out our excavator options and book yours today online!
Why Choose Us for Your Equipment Rental in Norwood Massachusetts
All Seasons Rent All is the top choice in the area for all of your equipment rental in Norwood Massachusetts needs. Our tools and equipment are reliable and well maintained. We work directly with leading manufacturers in the industry, names that you recognize and trust, to provide top-quality and safe equipment for every project. Our knowledgeable team is here to help get you the tools you need to make sure your upcoming project is a total success.

We are a locally owned and operated company that's been providing the best Norwood tool rental service at the best prices for years. Check out our options and you'll see the possibilities are endless with our rentals working for you! Browse our inventory online or give us a call to speak directly with one of our team members and reserve your equipment over the phone.
How to Book Equipment Rental Norwood MA Residents and Contractors Utilize for All Projects
Book the equipment rental Norwood MA trusts with a few simple clicks anytime with our secure and convenient online system. Time is of the essence when completing landscaping, demolition, or home improvement projects, so we strive to exceed expectations by making it as uncomplicated as possible to browse our site and book the perfect tools for your job. In just a few easy steps, you're on your way to having the equipment needed for the job at hand.

1. Browse our inventory, select a rental option, and click the red "Add to Cart" button.
2. Choose the date you need the equipment.
3. Choose a rental start and end time.
4. Enter the address where the equipment will be used and whether you need a delivery.
5. Go to checkout and enter your contact information and submit payment with any major credit card.

Once completed, you will receive a confirmation and receipt via email and or text. We make it as straightforward as possible to book ​​small equipment rental Norwood MA trusts anytime anywhere using your smartphone, tablet, laptop, or computer. If you have questions about how to rent a tool Norwood MA can depend on, give us a call and one of our friendly customer support team members will help you get on the books in no time.
Norwood Massachusetts Equipment Rental FAQs

If you're not familiar with Norwood Massachusetts equipment rental policies and procedures, then chances are you may have some questions you'd like answered before reserving your rental with our team. Read through a selection of our frequently asked questions below and get in touch with our team if you have any additional questions!
Delivering Heavy Equipment Rental Norwood Trusts to Surrounding Areas
et the best equipment rental Norwood has to offer from the team at All Seasons Rent All. We proudly serve Norwood, Massachusetts, and the surrounding areas of Norfolk County with reliable and well-maintained options that best suit a variety of projects. We're happy to offer delivery to the 02062 and 02090 zip codes.

When your job calls for the most reliable tool rental Norwood residents, contractors, and business owners can trust, turn to our team for professional and knowledgeable guidance. If you're not sure about delivery to your address, please call us at (800) 924-8440 and we are happy to see if we can accommodate service in your area. Rent with the best today!
Positive Reviews for Our Equipment Rental in Norwood MA
Our customers can't get enough of our equipment rental in Norwood MA and their 5-star reviews prove it! Area residents come back to us time and time again when they have projects that require dependable tools for rent.

We're confident that no matter the scale or scope of your project, we carry exactly what you need to make your upcoming project a total success. If you've been on the hunt for a competent and cost-effective equipment rental near me, look no further. We've earned repeated business from our amazing customers by providing invaluable services and high-quality tool rental options to help with a variety of needs. Read through what a few of our satisfied customers have to say below and book your equipment rental in Norwood MA!

"Anyone can rent you stuff but not everyone that rents takes the time and has the knowledge to help you use it." -Peter W

"These guys have helped me with, tents, tables, chairs etc, for my wedding to dropping off skid steers and everything in between, since 2002. Professional, friendly, and most important fast and reliable." -S. Quinn

"Love this place not too expansive and the stuff was verry professional." -M. Francisco