High Quality Lawn Equipment Rentals Norwood MA Has to Offer
All Seasons Rent All has the most extensive lineup of lawn equipment rentals Norwood MA residents and business owners trust that will handle any outdoor or landscaping job. Every tool that you need for the maintenance of your yard or commercial landscape redesign is ready to go to work for you. We're the high-quality lawn equipment provider
Norwood, Massachusetts
, and the surrounding areas of Norfolk County trust to help them get the job done right the first time.
Trim your hedges, cut back brush, take down deadwood trees, and mow the lawn all with our top-quality lawn equipment rentals Norwood MA uses for all kinds of outdoor projects. Plant a garden and reap the benefits of fresh veggies with our tillers that will get the land ready to plant. Our wood splitter will easily split logs, leaving you with firewood for a campfire or woodstove. Every tool needed for a beautiful lawn is available for you including our aerator, thatcher, seeder, and mower options that will leave you with a professional-looking landscape you can be proud of.
Our team works diligently to ensure that we are delivering safe, reliable lawn equipment rentals Norwood MA can depend on to your business or backyard. Trust our team and our expansive lawn and garden equipment options when you need the job done in a convenient and cost-effective way. We are the local rental company that you can rely on. Call us today at (800) 924- 8440 and we can help you reserve what you need for your next outdoor job or book online using our secure system available anytime from anywhere.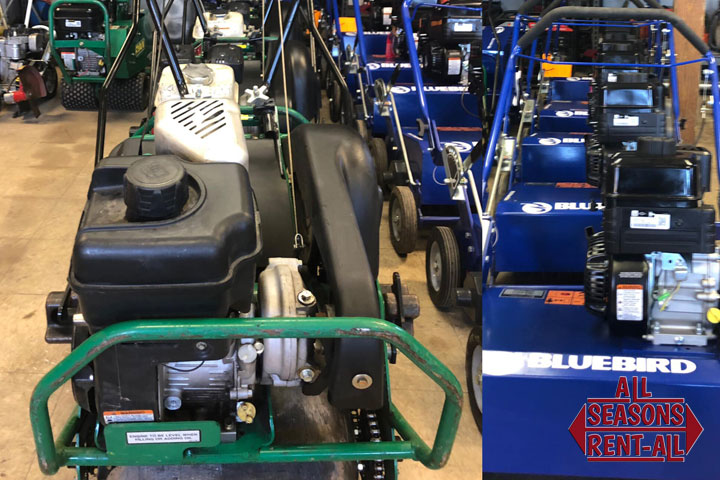 Various Uses for Lawn Rental Equipment Norwood MA Contractors and Residents Trust
Our lawn rental equipment Norwood MA contractors and homeowners rely on when they need a reliable tool for their outdoor projects is as affordable as it is useful. Trees taken down by storms are easily taken care of with a chainsaw and wood chipper. Expand the yard, clear out the brush and mow the lawn for an improved landscape. Trim trees and shrubs in no time at all. There's no need for raking leaves when you rent a backpack blower for all of your leaf disposal needs.
Contractors and homeowners alike use our post hole augers for the installation of fencing in both commercial and residential applications. Browse our huge selection of lawn rental equipment Norwood MA uses for a variety of projects and book one or a few for your next outdoor garden or lawn undertaking. Everything is possible with the right tool, so give us a call at (800) 0924-8440 or go online today to reserve yours! Be sure to check out our heavy machinery and
tools rentals
to complete all of your landscaping, home improvement, repair, and demolition needs with one trusted rental provider.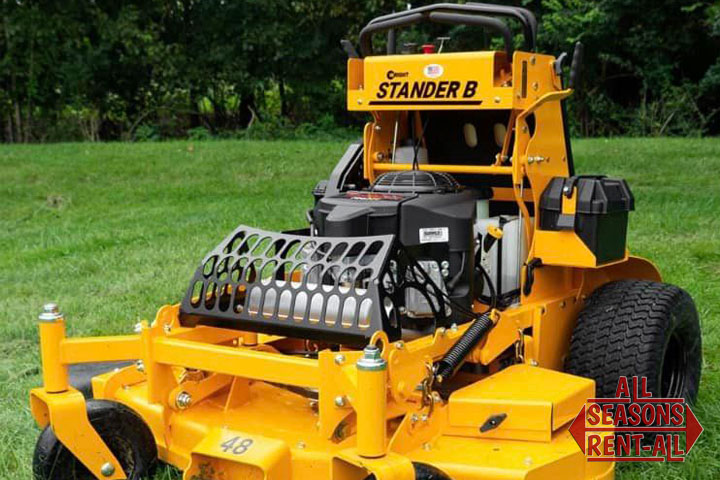 Rent a Lawn Mower Norwood MA Can Use Year-Round
When you need to rent a lawn mower Norwood MA can count on, we have the options that will help you get the job done right the first time. From a push mower with a bag for tight spots to commercial mowers for larger jobs, we have a reliable option for your particular lawn care needs. Big or small, we have them all for your lawnmower rentals.
Commercial mower or more commonly known as zero turns are available in 3 sizes including 36", 48", and 52" for both commercial and residential applications. All Seasons Rent All has the mower options for your project, whatever the size, so rent a lawn mower Norwood MA trusts from the company you can rely on today. Browse our online selections to rent lawn mower Norwood MA uses year-round and get in touch with our team if you have any additional questions. If you need a certain type of zeroturn mower, give us a call because chances are, we have exactly what you are looking for whether its a sit down or stand up model.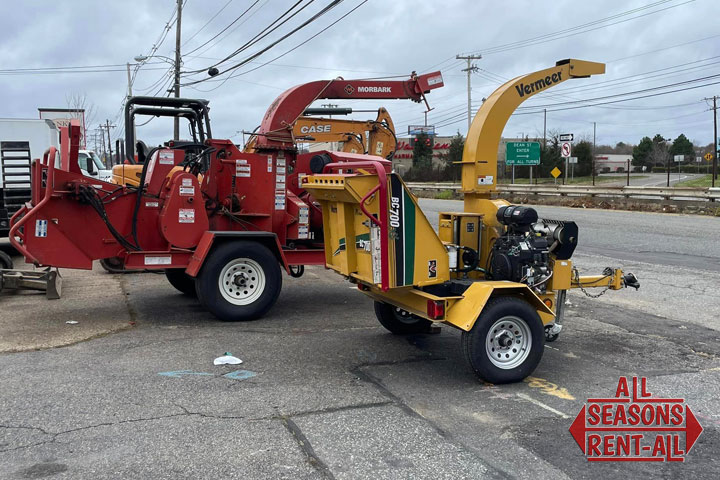 Rent a Chipper or Tiller Near Norwood MA Online Today!
Got a green thumb? Rent a tiller near Norwood MA and you're on the way to having a space for planting a vegetable garden or growing lush plants in no time! There is a lot of satisfaction in growing your own food and if you have a home or if you partake in a community garden, the ground will need to be tilled every year. For those pesky tree limbs in your way, we have various size wood chippers as well. Make your own mulch with one of the Vermeer wood chippers!
Rent a tiller near Norwood MA that you can rely on to get you the optimal results for your planting whether it be a veggie or flower garden, or for general lawn work. We carry the options for you and your particular job including a front tiller for gardens and a 16 HP rear tine tiller for the bigger jobs. Not sure which tiller is the right fit for your particular project? Give us a call and we'll walk you through your best options in no time.
Why Choose Us for Your Lawn Equipment for Rent in Norwood MA
All Seasons Rent All is the top choice in the area for all of your lawn equipment for rent in Norwood MA needs. Our tools and equipment are reliable and well maintained. We work directly with leading manufacturers in the industry, names that you recognize and trust, to provide top-quality and safe equipment for every project. Our knowledgeable team is here to help get you the tools you need to make sure your upcoming project is a total success.
We are a locally owned and operated company that's been providing the best lawn equipment for rent in Norwood MA at the best prices for years. Check out our options and you'll see the possibilities are endless with our rentals working for you! Browse our inventory online or give us a call to speak directly with one of our team members and reserve your equipment over the phone.
How to Book Rental Lawn Equipment Norwood MA Can Depend On
Book the rental lawn equipment Norwood MA trusts with a few simple clicks anytime with our secure and convenient online system. Time is of the essence when completing landscaping, demolition, or home improvement projects, so we strive to exceed expectations by making it as uncomplicated as possible to browse our site and book the perfect tools for your job. In just a few easy steps, you're on your way to having the equipment needed for the job at hand.
1. Browse our inventory, select a rental option, and click the red "Add to Cart" button.
2. Choose the date you need the equipment.
3. Choose a rental start and end time.
4. Enter the address where the equipment will be used and whether you need a delivery.
5. Go to checkout and enter your contact information and submit payment with any major credit card.
Once completed, you will receive a confirmation and receipt via email and or text. We make it as straightforward as possible to rent lawn mower near me or other equipment anytime anywhere using your smartphone, tablet, laptop, or computer. If you have questions about how to book rental lawn equipment Norwood MA can depend on, give us a call and one of our friendly customer support team members will help you get on the books in no time.
FAQs About Affordable and Heavy-Duty Rental Lawn Equipment Near Norwood MA
When you're not sure which rental lawn equipment near Norwood MA is right for the job you're hoping to complete, just ask the pros at All Seasons Rent All. Let our years of experience put you on the right track to complete your project in a timely and cost-effective manner. Read through a selection of our frequently asked questions below and get in touch with us if you need any additional information.
For a professional-looking finish, you will need our sod cutter to remove grass from the area, and, after leveling and laying out the sand in the walkway space our compactor is perfect for the sand compaction prior to laying the pavers. We have all of the appropriate tools you need to install a walkway in a reasonably-priced and convenient manner!
A chainsaw to cut the trunk into manageable sizes, after which a log splitter and a wood chipper will leave you with firewood for campfires or home heating and wood chips that can easily be hauled away or used as mulch. We're confident we have the rental lawn equipment near Norwood MA that will help greatly after a bad storm.
Yes, we offer a lawn aerator that pulls plugs from the ground and allows water to get to the roots, helping your lawn grow healthier. Our slice seeders slice the ground and drop seeds. Use one or both of these and you'll see a vast improvement in the condition of your lawn over time.
Delivering Lawn Rental Equipment Near Norwood MA and Surrounding Areas
Get the best options for lawn rental Norwood near Norwood MA from the team at All Seasons Rent All. We proudly serve Norwood, Massachusetts, and the surrounding areas of Norfolk County with reliable and well-maintained lawn and garden options that best suit a variety of projects. We're happy to offer delivery to the 02062 and 02090 zip codes.
When your job calls for the most reliable lawn rental Norwood residents, contractors, and business owners can trust, turn to our team for professional and knowledgeable guidance. If you're not sure about delivery to your address, please call us at (800) 924-8440 and we are happy to see if we can accommodate service in your area. Rent with the best today!
Positive Reviews for Lawn Equipment Rental Near Me
Our customers can't get enough of our selections and the fact that they don't have to spend hours searching for lawn equipment rental near me! Our 5-star reviews prove we're the top choice for lawn and garden rentals in Norfolk County. Area residents come back to us time and time again when they have projects that require dependable tools for rent.
We're confident that no matter the scale or scope of your project, we carry exactly what you need to make your upcoming project a total success. If you've been on the hunt for competent and cost-effective lawn tools, look no further. We've earned repeated business from our amazing customers by providing invaluable services and high-quality garden rental options to help with a variety of needs. Read through what a few of our satisfied customers have to say below and book your rentals today!
"Anyone can rent you stuff but not everyone that rents takes the time and has the knowledge to help you use it." -Peter W
"These guys have helped me with, tents, tables, chairs etc, for my wedding to dropping off skid steers and everything in between, since 2002. Professional, friendly, and most important fast and reliable." -S. Quinn
"Love this place not too expansive and the stuff was verry professional." -M. Francisco