For the Best Tool Rental Norwood Has to Offer, Choose All Seasons Rent-All!
  General Tools and Equipment
When you need a specific tool for the job, give the pros a call for the best tool rental Norwood has to offer that gets you the results you want. Renting tools from the experienced and helpful team at All Seasons Rent All makes great sense because we have the job-specific tools for projects of all types. Renting a pressure washer for the maintenance of the exterior of your home or a jackhammer to break up concrete is a simple and streamlined process because we carry everything you need under one roof.
We take great pride in offering top-quality options for a tool rental Norwood can depend on and our team will guide you to what you need for the project at hand. Our years of experience will go to work for you. As a locally owned and operated company, we love helping our neighbors with their DIY or home improvement projects, as well as offering long-term support for contractors and construction professionals. For all of your tool equipment rental needs in Norwood, Massachusetts, and the surrounding areas of Norfolk County, choose our industry-standard options today!
We carry a range of tile saws for installing a tile floor as well as equipment to pour a concrete pad with our cement mixer and concrete floor grinder. Our tools are what the pros use. Contractors and homeowners alike love our selections for a tool rental Norwood can count on for our amazing selections and cost-effective prices. We are the local rental company that you can count on to provide quality equipment in a timely and flexible manner. Call us today at (800) 924-8440 and we can reserve what you need for your next job or book online using our secure system available anytime from anywhere.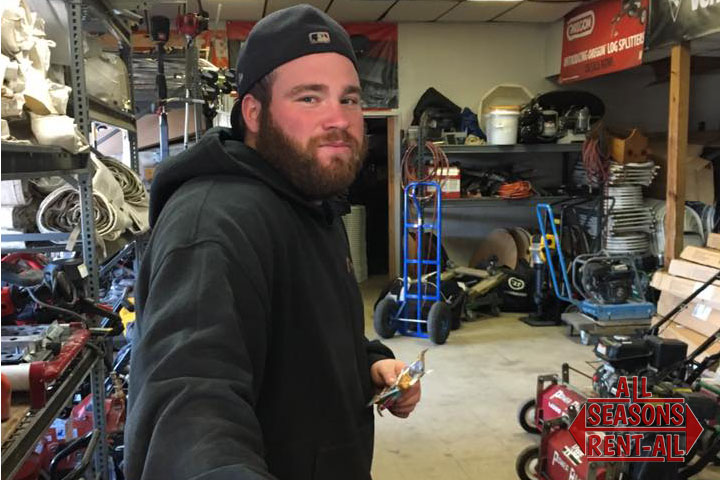 Many Convenient Uses for a Tool Rental Norwood Massachusetts Can Trust
Our customers know we have the best tool rental Norwood Massachusetts can count on for a wide scope of project goals. Contractors can rent our generator to power their job site and homeowners love to have them on standby for parties and events. Book one of our pressure washers to clean equipment, exteriors of buildings prior to painting, and concrete patios and decking.
We frequently rent out our equipment to help with a range of both residential and commercial projects including landscaping, home repairs, driveway or walkway demolitions, large cleanouts, housing developments, and more. Whether you're increasing the curb appeal of your home by pressure washing your driveway or porch, or are flipping a house and in need of a jack hammer to break up a worn out sidewalk, we're confident you'll rind our range of high-quality and cost-effective tool options a beneficial addition to your upcoming project goals! Be sure to check out our heavy equipment rentals and landscaping tools to help meet all of your outdoor and indoor project needs!
We have powerful vacuums for cleanup projects or spills and tools for breaking up concrete, tile removal, and installation. Book the tool rental Norwood Massachusetts depends on for a variety of home improvement and commercial needs today. Our tools make all of your DIY projects possible and help with cleanup along the way. Reserve yours today using our secure online system or give our friendly team a call at (800) 924-8440.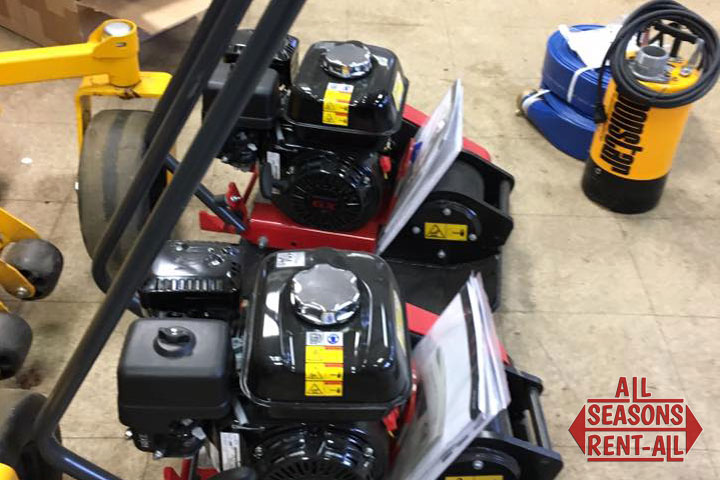 Range of Selections for a Tool Rental Norwood MA Uses for All Projects
All Seasons Rent All is your one-stop for all the tool rental Norwood MA homeowners and contractors count on for all of their projects, big or small. Our air compressor will power your construction tools so you don't have to worry about faulty equipment or rushing through a job. We carry everything you need to complete a range of jobs including tools like an electric cement mixer, concrete floor grinder, dingo, electric jack hammer, electric floor scraper, pressure washer, tile saws, and vacuums.
Book the generator rental Norwood MA can trust for instances in which electricity is not available on a job site. We have pressure washer options in several sizes and HP, so you can choose what you need according to the job. Jackhammers in both handheld 18lb and stand-up 60lb options will break up concrete easily. We have a Dingo Mini Bobcat that is perfect for a major mulching job. Browse our selection of options for a tool rental Norwood MA relies on and you'll see that we have the right tool for your next job.
Why Choose Us for Your Norwood Tool Rental
All Seasons Rent All is the top choice in the area for all of your Norwood tool rental needs. Our tools and equipment are reliable and well maintained. We work directly with leading manufacturers in the industry, names that you recognize and trust, to provide top-quality and safe equipment for every project. Our knowledgeable team is here to help get you the tools you need to make sure your upcoming project is a total success.
We are a locally owned and operated company that's been providing the best Norwood tool rental service at the best prices for years. Check out our options and you'll see the possibilities are endless with our rentals working for you! Browse our inventory online or give us a call to speak directly with one of our team members and reserve your equipment over the phone.
How to Rent a Tool Norwood MA Homeowners Use
Rent a tool Norwood MA trusts with a few simple clicks anytime with our secure and convenient online system. Time is of the essence when completing landscaping, demolition, or home improvement projects, so we strive to exceed expectations by making it as uncomplicated as possible to browse our site and book the perfect tools for your job. In just a few easy steps, you're on your way to having the equipment needed for the job at hand.
Browse our inventory, select a rental option, and click the red "Add to Cart" button.
Choose the date you need the equipment.
Choose a rental start and end time.
Enter the address where the equipment will be used and whether you need a delivery.
Go to checkout and enter your contact information and submit payment with any major credit card.
Once completed, you will receive a confirmation and receipt via email and or text. We make it as straightforward as possible to rent a tool Norwood trusts and book them anytime anywhere using your smartphone, tablet, laptop, or computer. If you have questions about how to rent a tool Norwood MA can depend on, give us a call and one of our friendly customer support team members will help you get on the books in no time.
Norwood Power Equipment FAQs
All Seasons Rent All is here to help with Norwood power equipment rentals that contractors and homeowners count on for their short or long-term projects. Our team has the experience to answer questions regarding what tool you need for the job to get the results you want. We rent only the best in well-maintained tools that you can count on. Give us a call with your questions about our Norwood power equipment or browse our frequently asked questions below to learn more about our products and policies.
Yes. When you rent a tool Norwood trusts from our reputable tea, we are more than happy to demonstrate proper use of our tools and give any helpful hints. We want you to achieve the best outcome with your project, so you can count on us to provide proper guidance and training before handing over any heavy machinery or tools.
Most of our general tool rentals will fit inside your vehicle, but we also offer delivery to our service area and truck rentals if you're renting in bulk and would prefer to transport it yourself. Whether you're booking a generator rental Norwood Massachusetts trusts and need delivery or are interested in viewing our equipment in person, we're here to help. Get in touch with our team today to learn more about transportation options!
The base cost for rentals is a 24 hr period. We can provide custom rates for an extended time, so just give us a call for a quote for your specific rental needs.
Delivering Options for a Tool Rental Norwood Uses for All Projects to Surrounding Areas
Get the best tool rental Norwood has to offer from the team at All Seasons Rent All. We proudly serve Norwood, Massachusetts, and the surrounding areas of Norfolk County with reliable and well-maintained options that best suit a variety of projects. We're happy to offer delivery to the 02062 and 02090 zip codes.
When your job calls for the most reliable tool rental Norwood residents, contractors, and business owners can trust, turn to our team for professional and knowledgeable guidance. If you're not sure about delivery to your address, please call us at (800) 924-8440 and we are happy to see if we can accommodate service in your area. Rent with the best today!
Positive Reviews for Our Tool Rental in Norwood MA
Our customers can't get enough of our tool rental in Norwood MA and their 5-star reviews prove it! Area residents come back to us time and time again when they have projects that require dependable tools for rent.
We're confident that no matter the scale or scope of your project, we carry exactly what you need to make your upcoming project a total success. If you've been on the hunt for a competent and cost-effective tool hire Norwood can rely on, look no further. We've earned repeated business from our amazing customers by providing invaluable services and high-quality tool rental options to help with a variety of needs. Read through what a few of our satisfied customers have to say below and book your ​​tool rental in Norwood MA!
"Anyone can rent you stuff but not every one that rents takes the time and has the knowledge to help you use it." -Peter W
"These guys have helped me with, tents, tables, chairs etc, for my wedding to dropping off skid steers and everything in between, since 2002. Professional, friendly, and most important fast and reliable." -S. Quinn
"Love this place not too expansive and the stuff was verry professional." -M. Francisco