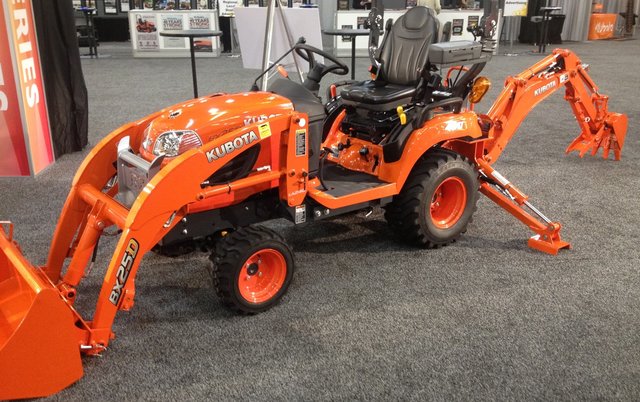 Kubota B25 Loader Backhoe Combo
Age Group: Adult 18 Years of Age




Kubota BX25 Backhoe Loader Tractor Rental - Versatile Powerhouse for Your Projects
Introducing the Kubota BX25 Backhoe Loader Tractor Rental - your ultimate companion for construction and landscaping projects. This versatile and high-performance equipment from Kubota will revolutionize the way you work. With its exceptional features, powerful engine, and user-friendly design, the Kubota BX25 Backhoe Loader Tractor ensures efficiency and productivity like never before.
Unleash Your Productivity with a Kubota BX25 Loader Backhoe Combo:
The Kubota BX25 Backhoe Loader Tractor is a true powerhouse designed to handle a wide range of tasks. Whether you're digging trenches, moving heavy materials, or landscaping your property, this machine is up to the challenge. Let's explore its top features and benefits:
Powerful Performance: Equipped with a 0.9 L three-cylinder diesel engine, the Kubota BX25 delivers impressive power and performance. With 23.3 PS (17.1 kW) of gross horsepower, this tractor tackles demanding jobs with ease, ensuring efficient and timely completion of your projects.
Versatile Backhoe and Loader: The BX25 features a reliable backhoe and loader combination, offering exceptional versatility on the job site. The backhoe attachment allows you to dig trenches, excavate, and perform precise earthmoving tasks. The loader attachment lets you move and lift heavy materials effortlessly.
Compact Design: With its compact dimensions, the Kubota BX25 is perfectly suited for both residential and commercial projects. Its narrow width of 1,130 mm (44.5 in) allows easy maneuverability in tight spaces, while its sturdy build ensures stability and control on uneven terrain.
Easy-to-Use Controls: The BX25 comes with user-friendly controls that make operation a breeze. Whether you're a seasoned professional or a first-time operator, you'll quickly master the intuitive controls, ensuring smooth and precise movements for maximum productivity.
Hydrostatic Transmission: The hydrostatic transmission with infinite forward and reverse gears provides seamless and effortless speed control. You can easily adjust your travel speed to match the requirements of your task, enhancing efficiency and fuel economy.
Comfortable Operator Station: The open operator station offers a comfortable working environment. With ergonomic seating and conveniently placed controls, you can work for extended periods without fatigue. The folding ROPS (Rollover Protection Structure) adds an extra layer of safety during operation.
Attachments for Every Job: Expand the capabilities of your Kubota BX25 with a range of compatible attachments. Whether you need a mower deck, snowblower, or additional implements, the BX25 can be customized to suit your specific needs, making it a versatile asset on any project.
Specifications for the Kubota BX25 Series:
Length: 2,420 mm (95.3 in)
Width: 1,130 mm (44.5 in)
Height: 2,160 mm (85 in)
Weight: 1,224 kg (2,700 lbs)
Engine: Kubota D902
Horsepower: 23.3 PS (17.1 kW)
Transmission: Hydrostatic
Fuel Tank Capacity: 25.0 liters (6.6 US gal.; 5.5 Imp. gal)
Tires: Front - 18×8.5-10, Rear - 26×12-12
Three-Point Hitch: Category I
Lift Capacity: 450 kg (992 lbs)
PTO (Power Take-Off) Speed: Middle PTO - 2,500 rpm, Rear PTO - 540 rpm
Frequently Asked Questions:
Can I rent additional attachments for the Kubota BX25 Backhoe Loader Tractor? Absolutely! All Seasons Rent All offers a range of compatible attachments for the Kubota BX25, allowing you to tailor the equipment to your specific project requirements. From mower decks and snowblowers to various implements, we have you covered.
Is the Kubota BX25 Backhoe Loader Tractor suitable for residential projects? Yes! The compact design of the Kubota BX25 makes it an excellent choice for residential projects. Its narrow width and maneuverability allow you to work in tight spaces without compromising on power or performance.
Is the Kubota BX25 Backhoe Loader Tractor easy to operate? Yes, indeed! The Kubota BX25 features user-friendly controls that are intuitive and easy to operate. Whether you're an experienced operator or a beginner, you'll quickly become familiar with the controls, enabling you to work efficiently and comfortably.
Rent the Kubota BX25 Backhoe Loader Tractor today and experience the ultimate combination of power, versatility, and convenience. Book now at All Seasons Rent All in Norwood, MA, and elevate your construction or landscaping projects to new heights!X